Nan Rumpf graduated from the University of Iowa, having grown up in a small Iowa town on the banks of the Mississippi River. She has worked as a visiting artist in local colleges and in public schools and for twenty years was a professional puppeteer. Her painting methods are highly creative and her work ranges from representational watercolor to collage and mixed media.
"The process of painting is what most fascinates me. I like to see how watercolors and other water media react to different painting surfaces and interact with each other. Experimenting with different methods to obtain accidental texture appeals to me. These experiments give me something to respond to and motivate me to continue experimenting as I d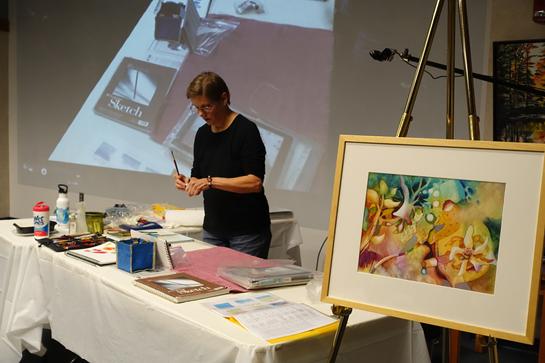 evelop each painting keeping in mind line, shape and composition. Making one change often strongly suggests the next. "
The artist has studied watercolor painting with Susan Swinand, Charles Reid, Miles Batt, and Cheng Khee Chee. She is the recipient of many awards, including the Golden Award at the NEWS national juried show in Gloucester, and recently she had a painting accepted into the American Watercolor Society's International Juried Exhibition in New York City. She is an exhibiting member of the Wellesley Society of Artists, an artist member of the Rhode Island Watercolor Society, and a signature member of the New England Watercolor Society. The artist's paintings have been exhibited at, among other prestigious art venues: the Danforth Museum in Framingham, The Center for Arts in Natick, The Concord Art Association, The Attleboro Arts Museum, the New England Watercolor Society's Show and The Art Complex Museum in Duxbury. The artist gives workshops around the Boston area and teaches classes in her home studio in Wellesley and can be accessed on line at www.NanRumpf.com.
LAG Demos by Nan Rumpf
Oil 10/17/2019    6:30-9 PM Lynnfield Senior Center

Examples of Nan's works