Frank Tomasello – My Story
Frank is an award-winning artist and member of several art associations: Peabody Art Association, Newburyport Art Association, Everett Art Association (past president), Danvers Art Association, Lynnfield Art Guild and Andover Artists Guild (new member).
When I was in school, I had a great instructor, Vincent Tringale, a very talented artist who later became a professor at the Massachusetts School of Art. He conducted his own art classes at the local YMCA where I took classes. He tried to get me into an art school on a scholarship after graduation, but that never worked out.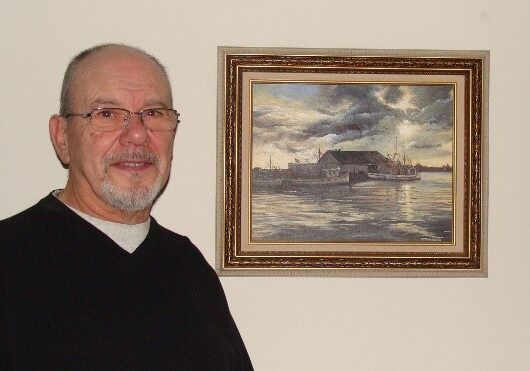 I have participated in many art shows and competitions. My works have been displayed in galleries in Rockport, Swampscott and Gloucester. I have done numerous portrait and special commissioned works. My varied collection includes many subjects from outer space, the southwest, nautical, country scenes, still life and portraits.
I did paintings of scenes, lighthouses and floral arrangements on roofing slate. In this medium, I started my own business and was represented by companies that sold items specifically to gift shops throughout New England and beyond. I also did many privately commissioned pet portraits on slate. Some of my works were sold in the nationally known Potpourri and Stitchery catalogs and one of my works was featured in Style magazine. I had the business for 14 years, but had to close it due to lack of assistance. I was a one-man operation and it became too much for me to do alone.
That's when I went back to painting on canvas. I have a varied style and I will paint anything that moves me.
If you would like to purchase a painting, or if you have any comments, I would like to hear from you. You can contact me at:
[email protected] or by phone at 978-587-2884 (Please leave a message).
Awards
Peabody Art Association
2013 1st Place & Popular Vote (One painting won both awards)
2014 Honorable Mention
2015 1st Place
Peabody International Festival
2014 Honorable Mention
2014 3rd Place and Popular Vote (One painting won both awards)
2015 Honorable Mention
2015 Popular Vote
2015 1st Place & Best In Show (One painting won both awards)
2016 2nd Place
2016 2nd Place & Popular Vote (One painting won both awards)
2017 3rd Place
2017 2nd Place
2018 1st Place & Best In Show (One painting won both awards)
2018 2nd Place
2018 Popular Vote
Stoneham Arts Festival
2017 1st Place
2017 1st Place (Sculpture)
2017 1st Place (Sculpture)
Wilmington Council For The Arts
2018 2nd Place
2019 3rd Place
Danvers Art Association
2017 2nd Place
2017 2nd Place
2017 Popular Vote
Everett Arts Association
2018 1st Place & Best In Show (One painting won both awards)
2019 1st Place
2019 2nd Place
2019 Honorable Mention
Lynnfield Art Guild
2018 3rd Place
2018 Honorable Mention
2019 Honorable Mention
Newburyport Art Association Juried Shows Accepted Works
2016 Fall Juried Show Part II
2017 Fall Juried Show Part I
2017 Winter Juried Show Part I
2017 Winter Juried Show Part I (Sculpture)