Maris Platais, a native of Latvia, has lived in New England since 1949. He is a graduate of Tufts University and the Boston Museum School. After serving in the United States Marine Corp he worked as an advertising executive, both corporate and freelance, while concurrently teaching drawing at the Museum of Fine Arts. Since 1982 he has devoted his full time to the fine arts. He lectures and demonstrates to art associations throughout the Northeast. He has served as a juror for many organizations, including the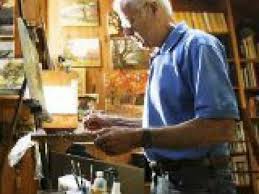 New England Watercolor Society.
Maris has had exhibitions, both nationally and internationally, and has won four Awards for Excellence in the Mystic International. His work was also included in the Top 100 six times in the Arts for the Parks competition in Jackson Hole, Wyoming. In 1996, 1997, and 1999 he received the Honors Award in graphics from the Academic Artists Association in Springfield, Massachusetts.
His works have also been exhibited at the Boston Museum of Fine Arts, the Worcester Art Museum, the Smithsonian Institution, the Anchorage Museum of History and Art, the Cincinnati Museum of Natural History, and in many private galleries from Maine to San Francisco.
Besides being a member of the Guild, Maris is also a member of the Academic Artists Association, the American Society of Marine Artists, and the Concord Art Association, where he served as president.
LAG Demos by Maris Platais
Drawing   9/20/2018    7-9 PM  Lynnfield Senior Center