Anne Steinman, a New Orleans native, has lived in New England for over 25 years.  She is a graduate of the University of Louisiana, at Lafayette, and has studied at South Shore Arts Center while employed as a Desktop and Network Administrator.   Anne is an accomplished artist who is adept in a variety of fine art mediums and enjoys teaching her methods.  Her artistic style consists of a harmonious blend of Oriental and Western techniques with focus on both realism and impressionistic expression.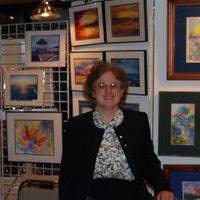 She has designed and taught a wide range of art classes that include:  Botanical Illustration; Chinese Brush Painting (Landscapes, Spontaneous and Detailed Styles);  Flora and Fauna (drawing and painting); Abstract painting; Mixed Media (collage, image transfer, stenciling and printings); en Plein Air; Beginner and Advanced Painting (watercolor, acrylic, oil and pastel); Spill, Splatter, and Splash (non-traditional watercolor techniques); and Pet Portraits. She has taught at North Shore Community College, Brookline Arts Center, and various senior centers.  She has led workshops and demonstrations for multiple organizations.  She sells commissioned paintings and conducts private lessons.  Various local cable and radio stations have interviewed her about her Chinese brush painting and watercolor pouring techniques.
Anne was awarded First Place at Topsfield Fair for Professional Fine Arts in Watercolors.  She also received the Creative Viddy Award from Acadiana Open Channel.  She was a grant recpient from the Massachusetts Cultural Council.  She served on the committee with the Neighborhood Developers for the production of the Shirley Ave Gateway Mural in Revere, and met with city officials to finalize its approval.   Anne helped sponsor the mural and collaborated in its development, design and painting.  She is a member of the Lynnfield Art Guild, a Certified Grumbacher Acrylics lnstructor, and a former member of the Chinese Painting Guild.
LAG Demos by Anne Steinman
Chinese Brush Painting  11/15/2018    6:30-9 PM  Lynnfield Senior Center